If you've ever taken your gun with you on a car drive, specially a long one, chances are you felt an urging need to find a specific gun holster for cars.
There's no way easy way around driving with your gun, it either hurts your belly or back, ot it's left on hard to access locations. Unless you acquire a simple, but effective, car holster, and as you will now see, there's more benefits to buying one than you may have initially thought.
Reasons for using car holsters
If carrying a gun on your car is important to you, that shows us how much you care about your safety, and that of those on your car. Once you've taken the important decision of ensuring it through a concealed carry firearm, you must be prepared to use the gun, if the worse come to happen.
With that in mind, you will notice that having a gun holster in your car is the best way to safely exercise your second amendment rights, for the following reasons:
Uncomplicated access
If you come to a position where you need to protect your grounds, you will not have time to open a car gun safe or remove a normal holster from the center console so that only them you can respond to an offender. On the contrary, you will need uncomplicated direct access to your loaded gun.
Safety
If you're denying yourself the level of access we discussed just now, you're also greatly endangering yourself and all in your car. During the hurried up process of reaching for a far away gun, unlocking it and removing it from a holster, the gun will be pointed at numerous inadequate angles.
The roughness of the moment may even lead it to fire wrongly. A car holster will guarantee your firearm is pointed away from your family, and ready to be used as quickly as you need.
Concealability
For a number of obvious reasons, you shouldn't let people on the information you are carrying a gun on your car. A gun holster for cars is just what you need to ensure access and safety, without sacrificing your privacy. There is a number of locations where it can be positioned inside your car.
Gun care
If you'd like to enjoy the most out of your sidekick firearm, you shouldn't throw it at spaces, and remove it abruptly, allowing scratches and bumps to diminish your gun's value and beauty.
Are you convinced already? Well, now before we move on, there's one more thing you should consider.
Is a car holster really what you're needing?
I know, I know, we've just made plenty of advertising on gun holster for cars, how come we're saying it might not be what you need? I hope it won't feel confusing.
We can actually recommend a car holster to anyone that carries and drives. But there are somethings to consider and invest in first.
Know your local laws
In some states all can carry guns in cars, even if they do not have a CCW license, in others, only if you are licensed, in others still, there are more documentation and more standards to follow. So in the end, you must know your local laws and those of the states you will be driving through before you're sure about bringing your gun with you in the car.
You should buy a car safe
A car safe and a car holster are not interchangeable, they serve different purposes. And if you're leaving the car with your gun inside it, be it cause you want too, or cause you can't take it, your gun should be on a safe, not on the holster.
Leaving a gun on the holster unattended, even if on a locked car, is a perfect opportunity for having your window broken and your firearm stolen. So if you won't make sure your weapon is always with you, it should be on a safe.
Now if you know all you need, and are ready to start seriously carrying your gun with you while driving, we will lead you to your best choices of gun holster for cars.
Types of car holsters
Many different types of gun holsters for cars are released on the market to ensure your satisfaction. But ultimately, what's the one for your?
Strap Mounted Type
These types of car holsters are fixed through straps on your car, normally to the driver's seat, so that the gun can rest either in the middle of your legs, or on your side. These designs are simple, inexpensive, and do not require any modification on the car, that's what makes them so popular.
Sticky Type
Simple design of holster that sticks to any surface so that you can position your gun at the best possible location for your confort. It is a bit weak on the sticking power, and may fail you and let your gun drop on a convoluted drive. However it does what it promises, and without ruining your car with complicated screw installations.
Car Mounts
These are more reliable installations made to your car interior that are able to securely hold your carry holster, or your gun directly. They can be very effective for not having you purchase a different holster than the one you already uses.
Magnetic Car Mounts
These are similar to the normal car mounts, on the sense that they also are normally installed using a few screws. However, magnetic mounts are smaller in size, and easier to conceal.
If you're worrying about their holding power, you shouldn't. The neodymium magnets used on the construction of these mounts are ultra powerful. You will be surprised.
DIY Types
We could not forget to mention this very sought after choice. Some people simply adapt a different holster to their car with a few screws. And there's nothing wrong with it, as long as due factors are considered.
Such as: the side from where you will be drawing the gun, the location on the car where the installation will be made, the quality of the holster you're selecting for adaptation and etc.
Holsters from all these types can be found, and ultimately, just as much as when choosing a holster for personal carry on the waist, selecting your preferred is a matter of personal preference.
That's why we are sharing some of the best picks from our web store (insert link to online shop) to help you envision your options and the available prices when taking your choice.
Best Picks of Car Holsters
GunsRite online shop (insert link to online shop) is your number one supplier for everything related to firearms and gears. Doubt it? Browse through our website and be surprised.
Today, we have brought you the best options of car holsters that can be send directly to your home. Feel free to order the right one for your today.
Desantis N92 Kingston Car Seat Holster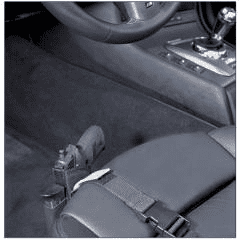 Have your gun at your closest reach with this strap mounted model from Desantis. A benefit of opting for this one is that having to avoid the gun when leaving the car will make sure you never forget it on the holster.
Sticky Travel Mount + Sticky Holster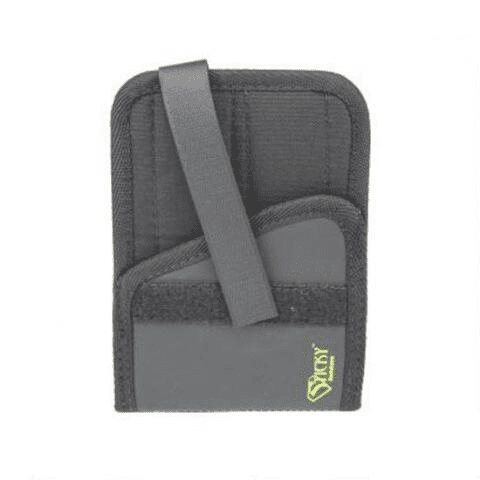 These specially designed mount and holster are very practical. They allow you to comfortably carry your firearm in your waist, and stick the holster later to the travel mount on your vehicle.
See the travel mount at GunsRite.
Techna Clip Pug Handgun Holster Mount
This gun mount model is supposed to be installed in your center console (or anywhere, really) via 4 screws. Its very simple concept allows you to simply insert your concealed carry holster on it when on your car. It's an inexpensive clever choice, of which you will not regret.
Check the price now at our web store.
Lockdown Gun Concealment Magnet
This ingenious magnet is all you need to hang your weapon anywhere in your car the simplest possible way. Plus, don't worry about scratches, since the very strong magnetic material is rubber coated to protect your gun. Just leave it on the magnet, and remove it when you need. It doesn't get any simpler than that.
Extra tips for choosing your car holster
We hope you've found a nice companion out of some of the models we have shared. However, we have some extra cautions to share with you before you can add peace of mind to your road trips definitely.
For starters, before you buy, it's important to notice that most holsters are designed for an specific gun size, so you must make sure you're buying one that is proper to your handgun model.
And lastly, after you've added one of our holsters to your firearm accessory hall, we'd like to reinforce that you should definitely spend some time choosing the perfect location for it in your car, and practicing your ability to draw it quickly while pointing at both sides of the car and nothing inside. Practice for dangerous situations, don't be surprised.
GunsRite: Taking your safety seriously
Our team here at GunsRite is made of second amendment enthusiasts just like you, that's why we produce content that can really help you through the major choices you have when new to the firearm universe. To see all we can help you with, head to our blog or guide pages.