Before we start our list on the best gun cleaning kits you can buy in 2019, there's something we need to tell you first. There isn't a perfect all-in-one universal pick. But don't feel bad, that's not a problem, you don't have all guns either.
So keep in mind all guns you do have or plan to have and their specific specs, cause on this article you will find out there's a perfect pick for you!
You DO need to clean your guns
If that's something you're still not convinced of, or worse, you've been neglecting it, please stop reading this article and head to our guide on Gun Cleaning (insert link for gun cleaning guide) right now. At least if you'd like to have a functional gun.
If you want to be able to trust your firearm will, in fact, shoot something when you pull the trigger, cleaning is a must. And to help you achieve that, gun cleaning kits from hundreds of manufacturers are designed everyday.
You might be asking yourself: how to choose from so many models? Should I buy anything separately? How much should I invest? How durable are this 9 bucks kits really?
Let us help you through this mess.
What to look for on a great gun cleaning kit?
To ensure you don't invest a ton of money in a cleaning kit for your one and only pistol, look for a set that attends to your needs, not every need.
You want it to be complete (as far as you're concerned), durable, portable and of an easy usage. To figure these stuff out you must understand what you're buying. So before we present to you our best gun cleaning kits list, we will let you in on the parts that compose one. This way you can understand while we discuss this and that on the list.
You experienced gun owner is free of course to jump to our next section and enjoy the list.
Components of a cleaning kit
Here's a quick list of some parts you can expect to find on a cleaning kit:
Rods: The most important part of your cleaning kit. The rod is where you will attach many of the other components so that you can run them through the barrel to clean it.
Brushes: Used attached on the rod to remove carbon built up on the barrel and initiate the cleaning. Kits will come with bronze and nylon brushes. Nylon is used for the more sensitive parts of the gun, providing a gentler action.
Jags: Tools that attach to the rod in order to hold cleaning patches while generating a 360º action.
Slotted Patch Holder: A simpler tool that performs the same function as the Jag, but with a slotted design through where you insert the cleaning patches. This tool is becoming the standard supply on modern kits, as opposed to the jag.
Patches: Used on jags or patch holders to spread solvent on the barrel, and to cleanse it later.
Cleaning Swab: Also known as gun mop, once you've finished cleaning, the swab will remove excessive solvent or oil left on the barrel.
Solvent: Used to chemically clean the barrel by breaking up particles from the accumulated residues.
Lubricant: Used for coating moving parts and thus making sure they can move freely, decreasing wear and providing some protection from corrosion.
While all of this parts may be found on good cleaning supplies, it's important to note down that gun cleaning kits are not made equal.
Types of Gun Cleaning Kits
To sum this up real quickly and go to our list, it's important for you to know that you can find kits that are designed specifically for handguns, shotguns or rifles. Those will be smaller in size and number of pieces, and will be perfect for attending to your specific needs.
However, for you gun enthusiast that has different firearms, from all types, and still plans to increase your arsenal, there are universal cleaning kits, that come with a great range of pieces. These are designed to provide to your every possible need when cleaning any firearm.
Both types of gun cleaning kits will make it to our list today, so you can identify exactly what you need.
The 7 Best Gun Cleaning Kits in 2019
While there are hundreds of different models of gun cleaning kits available, not all of them deserve your money, and choosing one might be a tough call. To ensure you can select a top choice, and receive a quality product even if your priority is to find a good price, we've put together these 7 heavy contenders from trusted brands.
Each one of them brings to the table a different quality, some emphasize exquisite quality, some portability, some cost-benefit, some specificity, all to ensure your perfect pick will be here, without blowing your mind with dozens of options. Without further ado, let's move on to our ranking.
7 – Real Avid Gun Boss Handgun Cleaning Kit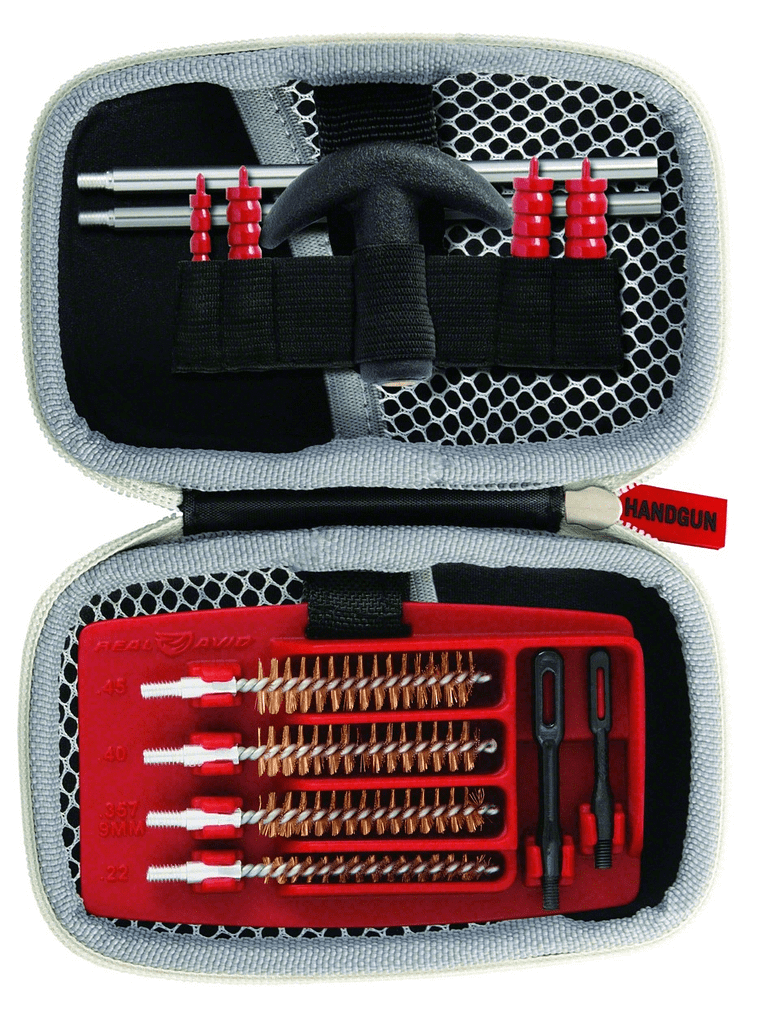 If your handgun is all you care about, this Real Avid kit offers all you need and more to make sure it's alway maintained. The calibers it cleans include .22, .357, 9MM, .38, .40, and .45 Cal. pistols.
With a compact, portable and waterproof nylon case, this durable kits carries all you need to care for your pistols or revolvers. One look at its compact design and you can already see the rods, the jags, the patch holders and a nice range of brushes.
Although it lacks fluid consumables like solvents and lubricants, this Real Avid model comes at a very low price and is definitely one of the best bangs for your buck. See for yourself.
See the price and shop at GunsRite.
6 – OUTERS 28-Pc Universal Gun Cleaning Wood Box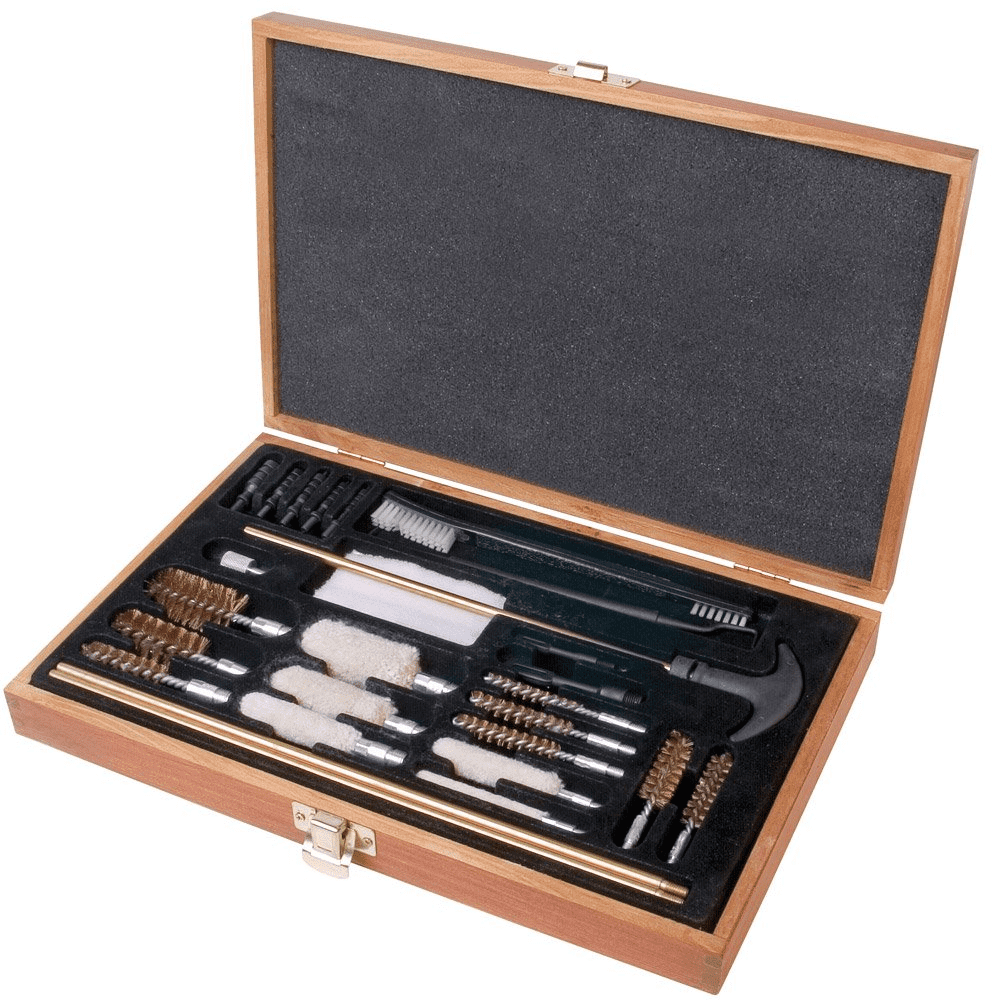 Outers did a great job on this aged-oak finished wood box gun cleaning kit. It provides a more universal choice of brushes and swabs than our last entry, for a price almost as good.
This is definitely your go-to kit, if you're looking for something that can clean not only your pistols but also your less frequently used rifles and shotguns. However, quality is only average (even though outstanding at this price) and if you are a very frequent user, these rods may let you down sooner than later.
The cons of opting for this kit are the previously mentioned intermediate quality rods, the cleaning jags made of plastic, and the fact that it lacks a lubricant and a solvent. But that shouldn't stop you from going for it if you see yourself as light gun user.
It's a great price, and a great case. Get it now at GunsRite.
5 – Winchester 32 Piece Universal Gun Cleaning Kit
This soft sided case universal gun cleaning kit from Winchester is actually a better cheap option for covering all your guns then our last entry if you're a light user.
It covers a bigger range of calibers, going from .22 pistols to 12 gauge shotguns, and it offers better jags, for the similar surprisingly good price. However, it faults on not providing a hard case.
You should go for it, if you're looking for something high on cost benefit and requires this range for all your guns. That of course, if you're a light user. If that's not the case, we thoughtfully suggest that you consider a higher grade product like the next entry of our list.
Shop for the Winchester 32 Piece Gun Cleaning Kit at GunsRite now.
4 – Remington Hunting Universal Cleaning and Maintenance Kit
Ok, this kit is just awesome. I should actually stop here. You probably know Remington, they are the strongest name on the list so far. And they've made a terrific job at designing this groundbreaking cleaning and maintenance kit.
This product is so good, it's actually used for professional use as well. Now I shall quit rambling about it and start telling you why.
Remington has really taken the word "universal" seriously. This kit is insanely complete, aside from all the usual components it offers a lot of extra adaptors and items to make sure your maintenance is complete. It even includes hand brushes a cleaning mat and a towel!
To ensure you're not lost in the middle of all that, you can expect a lot of labeling. Every item is labelled to tell you exactly what caliber or bore diameter it's designed for.
As if that was not all, it comes with a revolutionary cleaning system composed of coated flexible rod cables, instead of bars, and unique Squeeg-E Rem tips, instead of disposable cleaning patches. This allows you to clean any gun with one pass, while minimizing your expenses with consumables.
Although the Remington Cleaning Kit is priced higher than many other items at this list, there is virtually no con to acquiring it. You heavy user, owner of many weapons or professional gun cleaner will find in it a great acquisition.
Check the price now at our online store.
3 – Real Avid Gun Boss Pro Universal
As we're reaching the top 3 of our list, we couldn't forget to mention Real Avid one more time. And that's because they've designed an awesome universal cleaning kit with the best cost-benefit relation we've ever seen.
You look at the kit, you can clearly see superior quality, a great well organized kickstand case, a a high quality brush and jag set, tough and durable parts, well adjusted rods and the what's probably the most ergonomic handle we've ever seen. But when you look at the price, you basically can't believe how surprisingly cheap it is.
Although it lacks a higher number of pieces, and the chemicals you will need for your cleaning, if you're looking for cost benefit, you shall look no further. That's it.
2 – M-Pro 7 Tactical Cleaning Kit
Ok, maybe this time you're wondering why we've ranked this kit so high in our list, and we're sure you will understand the answer. It's obviously because this is tactical kit!!
Jokes about propaganda chosen words aside, this kit has got this far because of it carrying what's probably the best gun cleaner on the market. Ok, you might disagree, cause we know you've heard about Hoppe's no 9 cleaner, and it is a great cleaner, however it is absurdly strong.
M-Pro 7 offers a gun cleaner you can use on closed environments without choking to death, and a great lubricating oil as well. All of this, plus a hard cased kit that lacks nothing, it's definitely a great purchase.
Grab your own tactical suitcase at GunsRite today.
1 – Otis Technology: The Otis Elite
Made in the USA, this gun Cleaning Kit from Otis Technology has earned its place as the top pick of our list for its unparalleled completeness.
Come to think about it, we are not as passionate about it as we are about Remington's kit innovative design in our number 4. However, the Otis Elite has a quality of considering every single detail any gun owner with any firearm will possibly need that's just plain indeniable .
This is the gun cleaning kit for every gun, it attends to calibers ranging from .17 to 12 gauge, with 22 high quality bronze brushes and 6 aircraft standard memory cables instead of rods. It includes obstruction removal tools, specialized breakdown and fine cleaning tools, and even a complete lens cleaning system for your optics.
The Otis Elite is so complete, it carries a smaller tactical gun cleaning kit inside it. That's right, there's another kit inside the kit. All of this without ever negotiating quality. Nevertheless, it comes with a price.
The higher end quality of the Otis Elite can be felt right from its price tag. What you shouldn't worry about is that it will be felt through a lifetime of using it as well. If you consider yourself and advanced user, and would like a complete solution gun cleaning kit to be your companion for decades, that's the one for you.
Have it shipped to your place now at GunsRite.
Choose Carefully
What did you think about our picks of the 7 best gun cleaning kits available in 2019? Did you find the one for you? We're sure to have given carefully considered choices that will most definitely attend to your small or giant need.
So it's up to you to choose carefully now. If you still have any questions, you can get in touch with our team of experts at GunsRite and tell us your situation.
GunsRite is your one-stop supply shop for all your firearm needs, check through our online store and be surprised with our exquisite selection of guns and gear.