Have you just gotten your CCW permit and it's time to buy a worthy companion handgun for yourself? Or are you looking to upgrade your carry pistol to something more modern these days? Whatever is your reason we have carefully prepared this list so that you can get to know the best concealed carry guns of the market in 2019.
While the list is certainly not exhaustive, as there are hundreds of pistols and revolvers we are in love with here at GunsRite, our team wanted to make sure you won't be exhausted either, so we have sticken to 7 choices.
Our goal was to select picks that offer top of the line technology and a great cost-benefit relation, this way, you can find your next partner here, no matter which kind of shooter you are. Plus, at the end we have some extras to help you find out what's best for you.
Smith & Wesson M&P Shield 2.0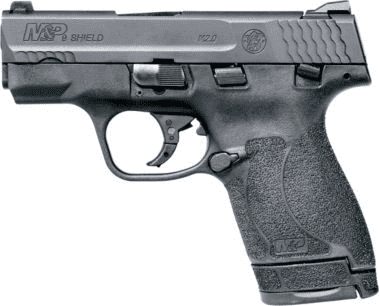 We couldn't start this list properly if we didn't mention the Smith & Wesson M&P Shield. After all, this gun is so loved by american shooters it was the buying choice of 20% of the concealed carry market. To tell you truth, is not hard to understand why.
Being designed from ground up for concealed carry, the Shield is perfectly sized. While it hides really well under clothing, it also provides a tight ergonomic grip, large enough for you to fit your whole hand, and an awesome trigger that makes it great for rapid fire.
It also takes care of other aspects really well, having a great standard sight and many optional additions. Our caliber recommendations for this pistol are the .40 or the 9mm. Those will supply just enough stopping power, while ensuring you can control the gun.
Due to the high demand for this model, recently it's very hard to find a Shield on a gun store. So don't lose time.
Snap it now at GunsRite online shop.
Sig Sauer P365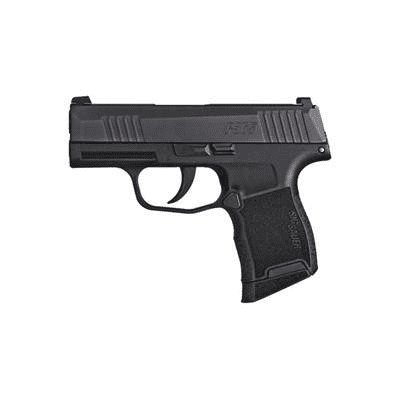 If the Shield made it to the list for its great relationship of concealable size and grip. This incredible Sig Sauer model makes it here because of its micro-compact size and great capactiy.
This spectacular 9mm gun is able to carry 10+1 rounds of amunition while being unbelievably small. To top it off, the pistol is rated for +p ammo.
By choosing the P365 you get to carry and incredibly powerful and compact weapon with the assured quality Sig Sauer is known for.
Check the price at our online shop.
Glock 43
This is Glock's original concealed carry blockbuster, and it is still one of the best concealed carry guns available. It packs all of the world renowned brand's reliability in one of the smallest 9mm you will ever see.
The 43 is able to completely disappear in a holster, and while having a decent grip, it is just short enough to be kept in your pocket. As you can expect from a Glock pistol, the sights are excellent and the operation is quite simple.
The only con to it being the fact that it only carries 6+1 bullets at a time. If that's a real issue for you, Glock has developed a version that competes with the Sig Sauer P365 and is able to carry 10+1 rounds, the 43X.
However, if small size and reliability is all you're looking for, you should surely stick to top-seller Glock 43.
You can order it today from GunsRite. Click to see the price.
Springfield Armory XD-S
If you're looking for an extra powerful caliber on a concealed carry pistol. Look no further. You won't find anything as powerful packed on a casing as small as that of the Springfield Armory XD-S.
This .45 ACP pistol carries only 5+1 rounds of ammo, but that's more than enough stopping power for any situation you may face. Other than some of the greatest sights on a concealed carry gun, by opting for the XD-S you're also getting Springfield quality on its whole build.
Taurus G2C
Do you want to know what's the smaller cost on our best concealed carry gun selection? That's it. And it might offer you the greater cost-benefit as well. The Brazilian Taurus has updated their PT111 G2 best seller into the G2C, an even more reliable model.
This very affordable 9mm gun offers .you 12+1 rounds of ammo, packed in a concealable sized high quality frame. If you can afford to carry a slightly bigger weapon and is searching for a good price, the G2C is the one for you.
See it at our online store now.
Ruger LCP II
If you're confident on using a .380 ACP, the Ruger LCP II will thoroughly please you. This pistol is a reliable small gun that won't fail to show up in any best concealed carry firearm list, and we will tell you why.
Being able to fit on the palm of your hand, the LCP II is the most popular pocket gun on the market. By choosing this gun, although you're opting for slightly less stopping power, you are buying the certainty of being able to conceal in any occasion, and never having to spend a day without your weapon.
Check the price of the LCP II on GunsRite now.
Smith & Wesson, M&P Bodyguard Crimson Trace
If you love revolvers, and they're your preferred handgun type, you will love the Bodyguard.
This .38 model from Smith & Wesson is a modern take on this classic and reliable firearm, and is one of your best choices if you're more confident shooting a revolver.
The Bodyguard is built on an aluminum frame, making it super lightweight, and is rated for +P ammunition, so that you can increase your stopping power. To make it even more appealing this version is fitted with a Crimson Trace laser that will ensure your aim, even on stressful situations.
Grab the Bodyguard at GunsRite now.
Extra – Know what gun you need
We've listed our top 7, so that you can get more info on the market before making a big buy. But we understand there's hundreds of other concealed carry guns that might be just right for you. At GunsRite, we believe in empowering your choices and decisions, rather than telling you what to do, that's why we'd like you to use that information in order to consider your every need.
Have you considered everything?
You've read about 7 good gun options for your day to day protection, but what's really important in that choice is that you know what kind of gun owner you are. What do YOU need?
How well can you handle recoil? How good is your aim? Are you familiar with guns at all?
If you feel there's more you need to know about how to choose a gun before making this choice, we have a selection guide that will help you see clearly. Click here to go to it.
Once you're well informed, choosing a gun should actually become quite fun, and almost addicting. In order to be able to buy all your desired guns and gun equipment as soon as you want it, and for a competitive price, head to our online store.